Day 5: Kortrijk – Geraardsbergen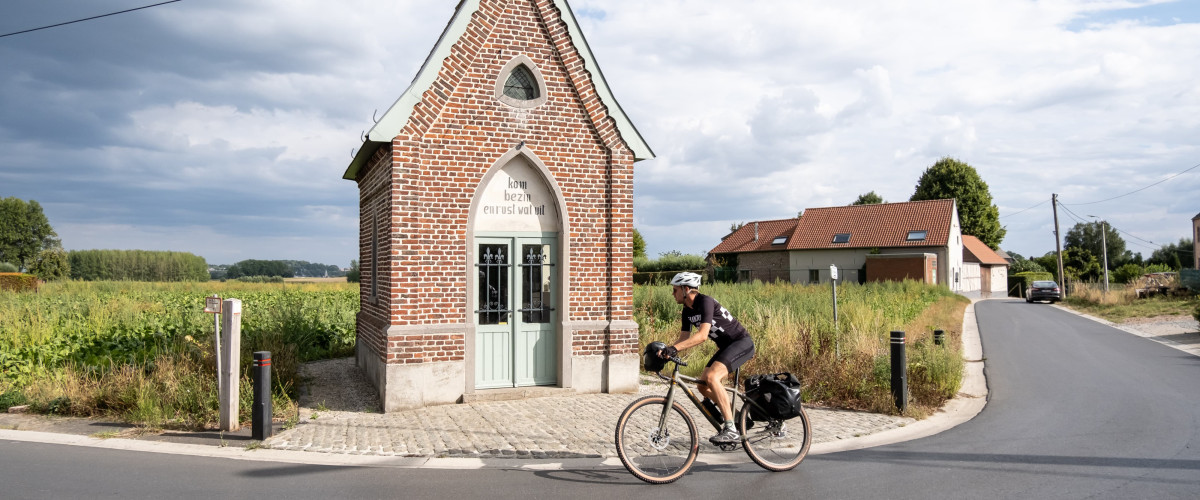 Perhaps the most challenging of all the iconic routes is the Hilly Route, provided you do not include the overarching Flanders Route. A route covering almost the entire breadth of Flanders, from the Heuvelland to the Voerstreek. We take on a large part of it. Today alone, a hundred kilometres, with a thousand vertical metres. It is hard climbing and the cobblestones await.
Everything you have hoped for as a cycling enthusiast in Flanders, you come across on the route to Geraardsbergen. The Keiberg and Tiegemberg as warm-ups, before moving on to the real thing. Climbs that are famous and infamous. They are considered as mountains despite their short distance.
The sweat drips from my forehead as, out of breath, I cycle up the Kluisberg. I see cycling buddy Lowie climbing up too, panting. The Kluisbos offers some coolness, as does a soft drink at d'Oude Hoeve on the Ronde van Vlaanderenstraat, where the names of all the winners of the greatest classic of all are marked out in sequence on the tarmac. And it seems never ending today. We reach the top of the Kanarieberg exhausted; the Taaienberg is not much different. And on the Kaperij, it's bouncing and blowing. Cobblestones as far as the eye can see.
We end the cycling day in style. Right next to the route is the Flandrien Hotel. A place where the love of cycling is to be found in every nook and cranny. If we had really gone bikepacking, with a tent and sleeping bag, we would have set it up here on the lawn. Between the caravans of Bianchi and Peugeot. But we stop for a beer and look for our hotel which is a couple of kilometres further on. In Zalardinge, a tiny hamlet, but with lovely B&B and restaurant Sanseveria as the excellent endpoint of the evening. Even the smallest villages in Flanders offer everything the holiday cyclist needs on their journey.