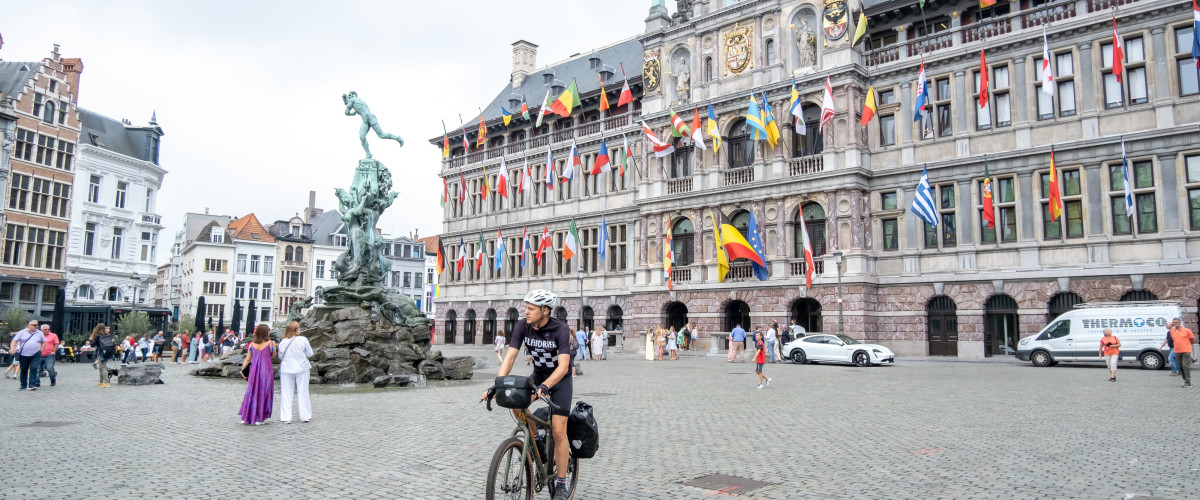 What are we planning, that's what Thomas van Bunder wants to know. The owner of Bikepacking Belgium, a cycling holiday store in the middle of Antwerp, is a fervent travelling cyclist himself and asks this question while he prepares two rental bicycles for my companion Lowie and myself. Brand new gravel bikes. Bikes on which you can travel the world, on which you can spend weeks, months or maybe years on the road. We are not thinking on that scale, although our adventure is not to be underestimated either.
 "We are going to follow the iconic routes," I explain. Seven days through Flanders, via various routes. Nearly seven hundred kilometres. Via Ghent to the coast, straight through the Westhoek, over the Flemish Ardennes, and then via the Pajottenland to Leuven and then finally, after Mechelen, to end up back here in Antwerp. A week of the best things Flanders has to offer, that's what it comes down to.
Thomas nods approvingly. "That's the beauty of a cycling holiday," he says. "Even if you're only away for a couple of days, it still feels like you're far from home, completely shut off from the world for a while. The bicycle immediately brings you into a different rhythm."
He's right, I notice right away when we cycle away from his shop in Antwerp-Berchem. Antwerp lies at our wheels. We wave goodbye the city on the Grote Markt, duck under the Scheldt via the Kennedy cycle tunnel, and then we follow the water. Or at least, what's left of it. The drought that has plagued Flanders for months has left the Kruibeke polders somewhat desolate. The dried-up banks of the Scheldt mark a brown and crusty trail through the landscape.
But the rhythm of a cycling trip immediately cheers us up. With heads held high, we follow the towpath southwards. We pass places where we have never been before. Temse, Branst, Sint-Amands. At Berlare, we take the ferry to the other side and pass Schellebelle, Metteren, Melle; everything new in a country that I thought that I knew so well. That too is the beauty of a cycling trip. Even close to home, a journey by bike can produce a string of surprises. And then to switch back to that which is familiar and known. Ghent's medieval towers loom.